A Most Amazing Day
Jun 19, 2021
I don't even have a blog yet, but I'm writing my first blog post. I just had the most amazing day, and the words are flowing out of me.
The app is live, and people are using it. Gastown is currently the only premium route, and it's selling at an introductory price of $3.99. So far the only real money purchase has been me, making sure it works. But I'm not worried because there are many irons in fire and balls in the air. I'm just trying to get the word out while it's nice out. I'm already planning an overhaul when winter hits.
But for now, I'm putting all my efforts into adding the two Stanley Park routes. There will be a route bundle of Stanley Park Seawall and Stanley Park Inner available as an in-app purchase, just as soon as I can get all the audio recorded on my fancy new mic.
Today I met up with my friend Danilo in Stanley Park to take photos. I had my bike and he had a fancy new eScooter and we snagged shots of nearly everything I was missing. My highlights were climbing down the seawall to get shots of the indigenous fish traps, and climbing up the salmon stream to see how far it goes. It goes very far! I'll make a donation to the Ecological Society for that one.
At this point, I'll also mention that I was wearing my newly minted VanWalks bike jersey. Custom ordered from Germany! Danilo took some great photos!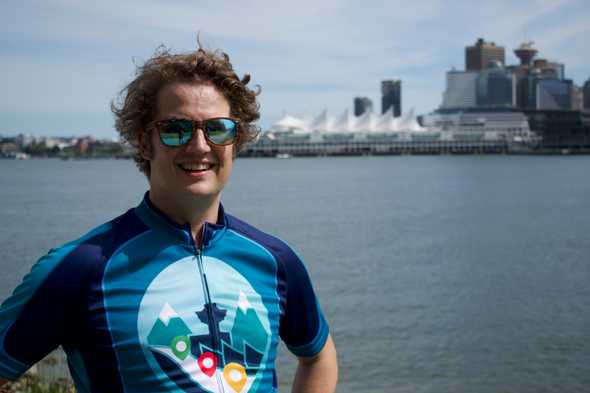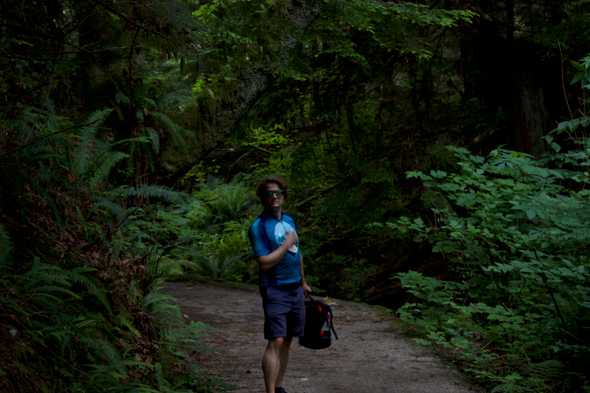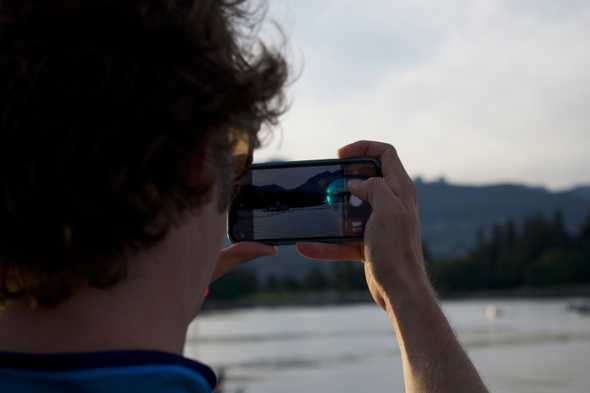 On the way back, we realized we were only a half hour away from seeing the 9 O'clock Gun go off. When we had gone by earlier, Danilo had never heard of it, so I was very excited. There was a small crowd gathered, but judging by the shrieks, not everyone was there to see the cannon. A few of us discussed how the guy who fills up the cannon and lives in Stanley Park has the best job in the world.
I had a major breakthrough while watching the 9 O'clock gun tonight. I have many huge ideas about how to promote the app. Eventually I want to have a huge street team and ride around on a VanWalks tricycle with a VanWalks trailer coordinating the whole thing. But I'm stuck on the first move. One thing that has always been hard for me is approaching people, breaking the ice. I realized, as I was there in my jersey, waiting for the cannon blast, if I had just a wee sign near me, I would be very comfortable telling anyone who is interested everything I know about the gun. I'm picturing a little stand with the VanWalks logo and sign that says "ask me about the 9 O'clock gun". I could make a different sign for all of the popular places.
Exhausted from my day, but excited to geek out with my designer about my sign idea, I raced home. Upon my arrival, I found a discarded steamer trunk in my building's free pile. I was stunned. And it's in superb condition, beyond mint, because it's filled with history. It still has the CN Rail tags from it's journey from Scotland to Vancouver, via Montreal in 1967. To whoever left this in the hallway, hoping that someone would find a use for it, I hope I can thank you one day. And to M. Merrylee and the fine folks at Canadian National Express, I thank you for the spirit of adventure that got this steamer trunk from Scotland to a Gastown back alley townhouse.
Oh, and after all that, I also wrote the first version of my bio for the website, and this post. Off to bed, in the morning my web meetup group is doing a tour of, you guessed it, Stanley Park.